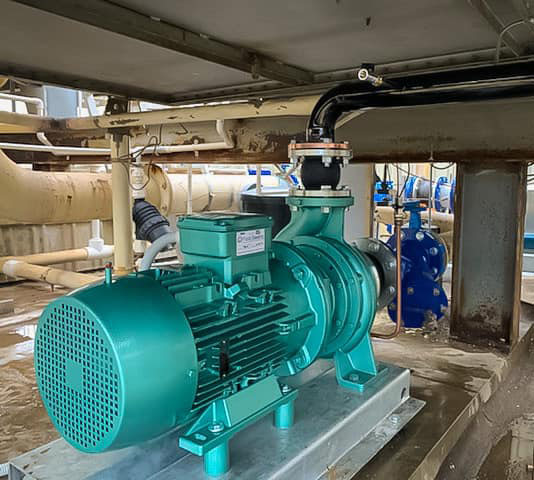 Pump Supply, Installation, Overhauls and Repairs – We supply, install, overhaul & repair all types and brands of pumping equipment. We specialise in conversion from packing to mechanical seal to reduce product cost, energy cost and environmental problems. All these are done with concern to sustainability and environmental protection.
Air Handling Units and Fans – Electrical motor replacements, on site bearing replacement to motors, main fan shafts, pulley & belt replacement, and we laser align all our belts and pulleys.
Cooling Towers – We replace main fan shaft bearings, replacement fans, motor bearing replacement and supply and install of new motors.
Shaft Laser Alignment – We use SKF Laser shaft alignment tools to align pumps and motors to achieve better performance, lower noise and vibration, longer bearing life and reduced power consumption.
Storm water, grease and sewerage pits – Fluid Sealing is fully kitted with confined space equipment and experienced, qualified technicians to safely maintain and repair all types of pits with pumping systems.
Engineering & Technical Services – We provide a comprehensive range of technical services and products for optimum flow equipment performance.
Ceramic Resurfacing – We solve corrosion and protection problems for pumps in harsh systems protecting your pumps internals for increased life. A phone call to Fluid Sealing will help you select the right material protection system unique to your facility & equipment.
Heavy Equipment movement – With a range of heavy lifting and movement equipment such as electric stair climbers, tripods, a-frames, ute cranes, chain & lever blocks we can move heavy equipment to where you need it.
For enquiries and more information regarding our products and services, please Contact Us.
You may also Visit and Follow our Facebook page some of our latest updates.